Browse Categories
Certifications
Subscribe

Get email updates on new products
Contact us

China Address: Zhengyang Road, Shouguang City, Shandong Province, ChinaTel:+86 18366529777Fax:+86 05365511977 E-mail:admin@dongshengwaterproof.com

Contact Now
bitumen waterproof Tape for roof
Min. Order Quantity:2000 Square Meters
Supply Ability: 3000000 Square Meters /Month
Thickness:1.0mm/1.2mm/1.5mm/2.0mm/3.0mm/4.0mm
Width:15mm/20mm/30mm50mm/100mm/as the request
Color: black/white
Loading port :QINGDAO
Payment Term :L/C,T/T
(DS-TAPE) Self-adhesive Waterproof Tape
Product Description > > >
It is a high-tech self-adhesive waterproofing membrane made without base material. The surface is covered with polyethylene film, aluminum foil or fine sand. With great elasticity, it can be self-healed in case it is punctured by sand or a sharp object. Great lap joint between two patches of membrane demonstrate its remarkable co-fusion and great elongation. With great bonding force, it won't crack or come off the substrate to guarantee its waterproofing performance. The membrane with aluminum coating has great insulation when exposed to the sun, which offers normal temperature to the base. It is also specially designed for a sloping roof with hanging tiles and is suitable for roof made with tiles fixed by nails. The waterproofing layer is also watertight even after being punctured. The product has a good self adhesive and bending properties.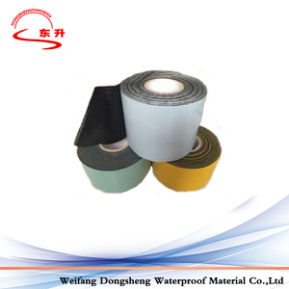 Specifications > > >
| | |
| --- | --- |
| Thickness | 1.0mm, 1.2mm, 1.5mm, 2.0mm,2.5mm,3.0mm,4.0mm |
| Width | 5cm,10cm,15cm,20cm,30cm,50cm,1m or customized |
| Length | 10m, 15m,20m or customized |
| Type | With or without polyester mat, glass fiber mesh compound mat |
| Surface | Aluminum foil and the silicon depositing release film |
Special sizes are made to order, and we have brand team for your customized design for package design.

Applied to > > >
1.Replacement or repair of flashing
2.Guttering, down pipes, skylights
3.Extensions, porches, window frames & chimneys, jointing for artificial grass
4.Caravans & Conservatories
5Sealing parapets, valley gutters
6.Sealing capping bolts & roof ridges
7.Roof repair of portable buildings

1

PE

AL

N

2

Water impermeability

Pressure ,MP a ≥

0.2

0.2

0.1

Retention time ,min ≥

120,water impermeable

3

Heat resistance °C

-----

80 No slippage, flowing, dropping.

--

4

Tensile force N/50mm ≥

130

200

5

Elongation at break,% ≥

450

200

450

6

Softness

-20°C,Φ20mm,3s,180°C. No crack.

--

7

Shear performance

N/mm

Between membranes ≥

2.0 or fracture on the external agglutination section

fracture on the external agglutination section

Between membrane and aluminum plate ≥

8

Peel strength ,N/mm ≥

1.5 or fracture on the external agglutination section

fracture on the external agglutination section

9

Puncture resistance

water impermeable

10

Aging by artificial climate

Appearance

No crack, no bubble.

---

Tensile force retention percentage,%

80

---

Softness at low temperature ,°C

-10°C,Φ20mm,3s,180°C, No crack.

-
Features > > >

1.High elongation, good flexibility, strong viscosity, high fatigue resistance, resistance to puncture.
2.Construction is convenient and quick without the involvement of fre. Membranes can be arbitrarily cut as needed.
3.4 layers of protection and superior temperature resistance from -20℃ to +100℃ .
4.Wide range of use. The products can be widely used in building engineering, joints sealing, corrosive part of pipeline, sealing work and storage sealing, etc.
5.Long-lasting protection for at least 15 years

Storage and transport (Announcements) > > >
1、This tape should be stored in a dry and ventilated environment, to prevent the sun and
rain. In tropical climates, the product must be stored in an air-condition environment .
Different types, specifications of the tape should be stacked separately. Stacking height should not be more than 5 layers.
2、Storage Life is up to 12 months stored between 5 ℃ and 25℃ in original containers
3、When transport should be placed flat, shall not be tilted or cross pressure, to prevent
the sun and rain。

Application methods > > >

The application temperature should be between 5° C to 45° C. The installation procedures are as follows:
1、Unroll only the required length and cut the pieces to the desired shapes and size.
2、 Place the pieces of membrane on the area to be covered and check whether they match the profile of the marked substrate.
3、 Peel the release film and carefully place the membrane so as to ensure a minimum of 50mm overlapping and then smoothen the membrane from the center to the edges in order to dive out entrapped air
Other Products