Browse Categories
Certifications
Subscribe

Get email updates on new products
Contact us

China Address: Zhengyang Road, Shouguang City, Shandong Province, ChinaTel:+86 18366529777Fax:+86 05365511977 E-mail:admin@dongshengwaterproof.com

Contact Now
Constructions SBS Modified Bitumen Waterproof Membrane
Min. order Quantity:2000 Square meters
Supply Ability :1500000 Square meters/month
Port :QINGDAO PORT
Payment Term :L/C,T/T
thickness :2mm-5mm
width :1m,1.05m
length :7.5m-10m
Constructions SBS Modified Bitumen Waterproof Membrane
Quick Details
· Type: Waterproof Membrane
· Place of Origin: Shouguang, China (Mainland)
· Brand Name: Dong sheng
· Model Number: SBS-PYPE
· Reinforce: polyester
· Upper surface: PE film, sandglass or mineral
Packaging & Delivery
| | |
| --- | --- |
| Packaging Details: | SBS-PYPE material is packed in rolls with plastic bags. |
| Delivery Detail: | 15 days |
SBS-PYPE
SBS-Modified Bitumen Waterproof Membrane with Polyester Fiber and PE Film
Description
SBS-PYPE is a waterproofing modified bitumen base sheet consisting of
styrene-butadiene-styrene (SBS) modified asphalt reinforced with polyester
fiber covering with polyethylene surfacing.
There have three kinds of thickness: 3 mm, 4 mm and 5 mm.
Where to use
Roofs or undergrounds;
Pools, such as swimming pools, fire pools;
Subways, tunnels, concrete road or bridge surfaces;
Sewage plants, garbage burying projects;
Penstocks.
Advantages
The combination of polyester fiber and SBS modified bitumen is showed good performance on waterproofness;
It will be a high-strength membrane to resist water;
Puncture-resisting, tear-resisting, corrosion-resisting, mould-resisting and weather-resisting;
Good tensile strength and elongation;
Strong adaptability for substrate shrinkage, deformation and cracks;
Both high and low temperature resistance, especially in cold areas;
Convenient to apply: use heat fusion method in all seasons.
Typical properties
Item

Units

Requirements

Test Method

Visible defects

-

Visible defects

EN 1850-1

Thickness

mm

≥3.0

EN 1849-1

Mass per unit area

3 mm

Kg/m2

≥3.3

EN 1849-1

4 mm

≥4.3

5 mm

≥5.3

Length

m

10±0.01

EN 1848-1

Width

m

1±0.01

EN 1848-1

Straightness

mm/10 m

≤20

EN 1848-1

Maximum tensile force

Longitudinal

N/50 mm

≥800

EN 12311-1

Transversal

≥800

Elongation at the maximum tensile force

Longitudinal

%

≥35

EN 12311-1

Transversal

≥35

Maximum peel resistance of joint

N/50 mm

≥100

EN 12316-1

Average peel resistance of joint

≥75

Resistance to tearing(nail shank)

N

≥250

EN 12310-1

Dimensional stability

%

±0.6

EN 1107-1

Shear resistance of joint

N/50 mm

≥400

EN 12317-1

Flexibility at low temperature

° C

-25

EN 1109-1

Water tightness

k Pa

≥60

EN 1928

Flow resistance at elevated temperature

° C

105

EN 1110

Resistance to impact

mm

2000

EN 12691

Resistance to static loading

kg

15

EN 12730

Artificial ageing behavior

Determination of visible defects

Blister

-

No blister

EN 13707

EN 1297

EN 1850-1

Crack

-

No crack

Hole

-

No hole

Nake spots

-

-

Reaction to fire

Class E

EN ISO 11925-2

EN 13501-1
Packaging
SBS-PYPE material is packed in rolls with plastic bags.
| | | | |
| --- | --- | --- | --- |
| Thickness | Roll Size | Rolls / Pallet | Pallets / 20' Container |
| 3 mm | 10 m2 | 25 | 20 |
| 4 mm | 10 m2 | 23 | 20 |
| 5 mm | 10 m2 | 20 | 20 |
Above quantities are indicative only.
Storage
SBS-PYPE material should be stored in well-ventilated shade place and protected from sun or rain. The temperature in stored places can not be higher than 50° C. It only can be put vertically in single-level. The normal shelf life is 1 year.
Transportation
SBS-PYPE material can not be inclination or lateral drift. Cover with cloth when it is necessary.
Application System
Dongsheng modified bitumen membrane waterproof system includes substrate, undercoat, membrane waterproof layer, protection and isolation layer.
Dongsheng also provide a complete line of compatible accessories and components, including primers, adhesives for membrane, pipe clamps, terminal battens and screws.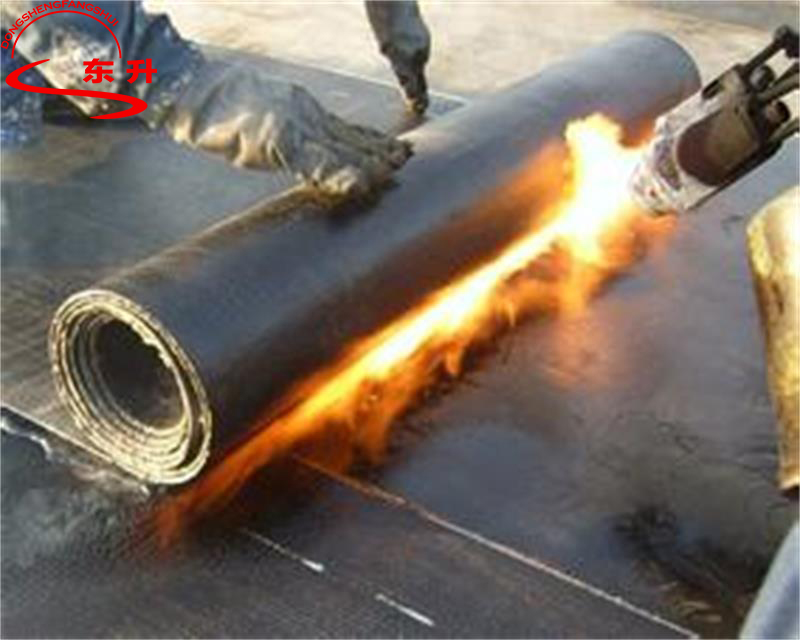 Application Method
Surface preparation
Surfaces should be dry, clean, smooth and free from any dusts, oil or loose particles. Cracks and surface irregularities need to be filled by polymer mortar.
Priming
Before membrane laying, substrate treating agent need to be brushed evenly and completely cover all laying places.
Membrane Laying
For adhesion between membrane and substrate or membranes, it can use hot melt method or cold adhesion method. According to application designs and specific applied parts, it can be applied by fully adhered method, strip adhered method and border adhered method.
Sealing, fixing and constraining on vertical surfaces
On vertical surfaces, fix with metal battens and seal with sealants for membranes.
Application on protection and isolation layer
After membrane laying, apply on protection and isolation layer according to waterproof layer design.
Other Products