Browse Categories
Certifications
Subscribe

Get email updates on new products
Contact us

China Address: Zhengyang Road, Shouguang City, Shandong Province, ChinaTel:+86 18366529777Fax:+86 05365511977 E-mail:admin@dongshengwaterproof.com

Contact Now
Cheap self-adhesive waterproofing sheet
Min.order Quantity: 2000 Square meters
Supply Ability: 1500000 Square meters/month
Loading Port:QINGDAO PORT
Payment Term:L/C,T/T
Thickness: 1.2mm,1.5mm,2.0mm
Width:1m-1.05m
Length:10m-20m
Description
It is a modified bitumen base sheet consisting of styrene-butadiene-styrene (SBS) compound modified asphalt covering with different upper separated materials, no fiber and underside with silicone antisticking layer. According to different upper surface, it can be three types: PE film surf-acing, Aluminum foil surfacing and Non-film surfacing. There have three kinds of thickness:1.2mm, 1.5mm and 2.0mm.the length is 10m~20m,width is 0.98m~1.05m. It has such properties as good self-adhesion, no leaking, cold flexibility, especially in self-adhesion. That is unique in waterproof and application.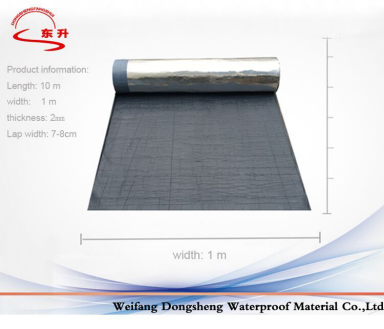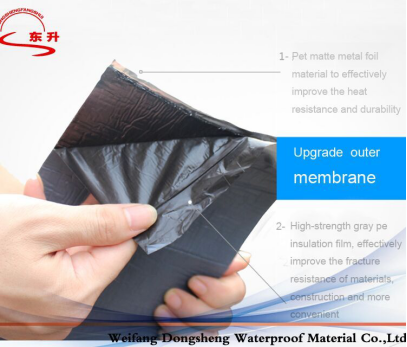 Specification
No.

ITEM

PROPERTY INDEX

PE

I

II

1

Tensile property

Tensile force/(N/50mm)≥

150

200

Elongation at strength,%≥

200

Elongation at break,%≥

250

Strength appearance

No separation

2

Heat resistance℃

Slipping less than 2mm at 70℃

3

Cold flexibility℃

-20

-30

4

Water impermeability

0.2MPa,120min,water resistant

5

Heating ageing

Elongation at strength,%≥

200

Cold flexibility,℃

-18

-28

no crack

6

Thermal stability

Appearance

No plumping, no wrinkles, no slipping, no flowing

Change in size/%≤

2
Features
ü Self adhesive, safe and environment-friendly
ü Excellent flexibility in low temperature and elongation
ü Strong adaptability for substrate shrinkage, deformation and cracks
ü Strong self healing ability for penetration and cracks
ü Lasting bonding and sealed performance
ü Excellent water resistance
ü Cold construction, easy to install
ü Available for wet ground

Where to use
Swimming pools, fire pools and reservoirs
Subways or tunnels
Construction areas where open fires are forbidden
PE film surf-acing can be used in non exposed roofs and undergrounds
Aluminum foil surfacing can be used in all kinds of exposed roofs
Non-film surfacing can be used as an auxiliary material or bonding material between two
incompatible places
Packing
Self adhesive waterproof membrane is packed in rolls with plastic bags or cartons.
| | | | |
| --- | --- | --- | --- |
| Thickness | Roll Size | Rolls / Pallet | Pallets / 20' Container |
| 1.2 mm | 20 m2 | 25 | 20 |
| 1.5 mm | 20 m2 | 23 | 20 |
| 2.0 mm | 15 m2 | 23 | 20 |
Above quantities are indicative only. We can produce it according to your demands.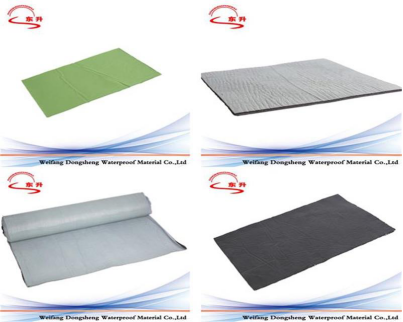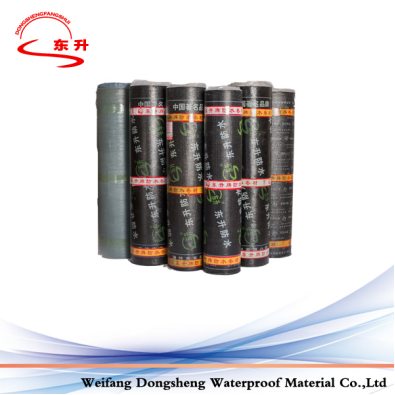 Storage and Transportation
Self adhesive waterproof membrane should be stored in well-ventilated shade place and protected from sun or rain. The temperature in stored places can not be higher than 50° C. It can not be put in more than two levels. If packed by cartons, it can not be put in more than five levels.
Other Products