Browse Categories
Certifications
Subscribe

Get email updates on new products
Contact us

China Address: Zhengyang Road, Shouguang City, Shandong Province, ChinaTel:+86 18366529777Fax:+86 05365511977 E-mail:admin@dongshengwaterproof.com

Contact Now
3.0mm SBS Modified Bitumen Waterproof Membrane with fiberglass felt
Minimum Order Quantity: 2000 square meters
Supply capacity: 1.5 million m2 / month
Port: Qingdao Port
Payment: L / C, T / T
Thickness: 2 mm -5 mm
Width: 1 m, 1.05 m
Length: 7.5 m -10 m
description
Elastomer modified bitumen membrane is a polyester felt or fiberglass mat base for the child, both sides impregnated by styrene - butadiene - styrene tri-block copolymer (SBS) thermoplastics as modifier, for oil modified bitumen miscible elastomer modified asphalt altered layer and waterproof membrane covered with fine sand, mineral (tablets) tablets or PE film made of insulating material. According to the material on the surface, it may include three types: PE film welding, sand surfacing, surfacing and mineral foil surface. There are four kinds of its thickness: 2 mm, 3 mm, 4 mm to 5 mm.
Scope
1. elastomerModified bitumen is mainly applied to industrial and civil roofing and underground works.
2. The glass fiber reinforced polyester felt sheet can be used to mechanically fixed single ply waterproofing, but needs through wind load test.
3. The glass fiber mat is suitable for multi-layer waterproof membrane waterproof bottom.
4. The use of membrane exposed on the surface of the insulating material using an opaque mineral grains waterproofing membrane.
5. underground waterproof surface-insulating material is fine sand waterproofing membrane
advantage
1. Strong performance impermeable
2. high tensile strength, elongation, strong grass-roots shrinkage and cracking adaptability
3. The low temperature performance, hot and cold areas can be applied, especially in cold regions
4. puncture resistance, cut resistance, tear resistance
5. corrosion resistance, mildew resistance, weather resistance
6. Construction of convenience, melt construction seasons and can operate, reliable seams
standard
The implementation of standards and physical and mechanical properties (Executive GB18242-2008)
Item

Requirements

Soluble matter content, g/m2 ≥

4 mm

2900

5 mm

3500

Resistance to heat, ℃

105

Flexibility at low temperature, ℃

-25

Water tightness, 0.3 MPa

30 min, pass

Maximum tensile strength, N/50mm ≥

800

Elongation at the maximum tensile strength,% ≥

40

Mass gains after immersed in water

ARC-701PE/S

1.0

ARC-701M

2.0

Terminal aging

Tensile strength retention rate ,% ≥

90

Elongation retention rate, % ≥

80

Flexibility at low temperature, ℃

-20

Dimensional changes,% ≤

0.7

Mass loss,% ≤

1.0

Immersed in oil, pieces ≤

2

Joint and peeling strength, N/mm ≥

1.5

Adhesion of granules(for ARC-701S),g ≤

2.0

Coating over under surface, mm ≥

1.0

Artificial ageing behavior

Determination of visible defects

No sliding, flowing, dripping

Tensile strength retention rate ,% ≥

80

Flexibility at low temperature, ℃

-20

Resistance to root penetration

Pass

Resistance to corrosion

Class

0 or 1

Tensile strength retention rate ,% ≥

80

Dimensional changes,% ≤

1.0
Bale
SBS modified bitumen membrane material is packed in a plastic bag volume.
thickness

Surfacing

size

Volume / box

Pallet / Container

4 mm

PE film

10 square meters

twenty three

20

Sand film

twenty three

Mineral grain film

20

5 mm

PE film

20

Sand film

20

Mineral grain film

20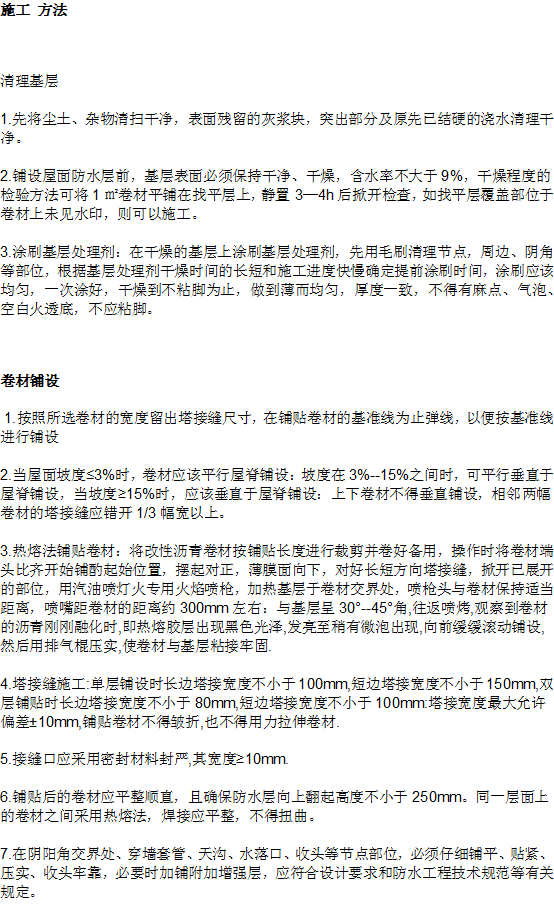 Other Products